Challenges
Search and rescue missions, security and surveillance, recognition of threats, is a difficult task for human beings to carry out without any mechanical support. Reaching high altitude areas, dense forests, dull and compact areas, makes it a very complex job and hard to reach.
Description
The need for drones in the defence sector have expanded to areas including electronic attack, air strikes, destruction of enemy air defense, network node or communications relay, combat search and rescue.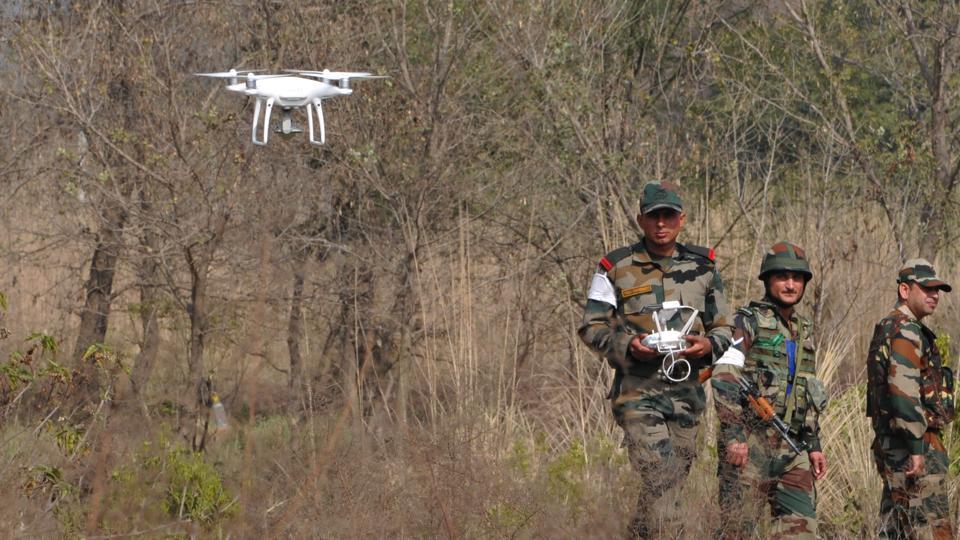 Services
Drones are the up-to-date aerial forces that can help to build up the security forces against the emerging challenges and threats faced by the defence services.
Identification of emerging threats, detection of unknown ongoing activities, tracking illegal activities, etc.
Surveys and mapping of disaster-prone areas are required to avoid any life damage in cases of disasters. Post-disaster search and rescue management is crucial, but in some areas, help can not reach on time. Search and rescue operations, in such instances, are done by using UAVs.
Security services have a broad scope, and the ease & precision in security services using drones helps solve security-related issues by optimising resources and time.
Crime scene investigation
There are always challenges in accessing the crime scene due to many security restrictions. Also, human presence at such instances is difficult in the initial stages. Drones can be used for digital mapping and the required information can be obtained for further study and investigation.
Criminal surveillance and tracking
It becomes difficult to monitor seemingly illegal activities by sending teams there. Also, tracking the movements is more challenging when the monitoring has to be done secretly. Drones gather information by capturing images/videos operational via remote access.
Police response coordination
Experimental or search investigation, or raids, scrutinies need constant tracking of the place of investigation from remote access for the provision of updated information to the troops. Drones provide a bird's eye view of the actual situation.
Expert training and proper evaluation form a large part of security services. Complete knowledge and application of UAVs is the prime need for security training. Feasibility and technical known-how of drones act as a great support system for security services.
Wildlife and habitat monitoring protection
Conservation of wildlife and the actions supporting that are extremely important. Unfortunately, humans can not reach everywhere due to many reasons like attacks, dense forests, and so on. UAVs can efficiently work in this regard by tracking wildlife, vegetation along with highlighting the needs and challenges of such areas.
Solution
Visual day surveillance can be the best way to have a keen eye on the targeted areas and to identify visible occurring threats. Search and rescue operations can be carried out at ease as the aerial eye can reach out to places where human beings cannot. Several other rescue and threat identifying operations can be put into practice through infrared surveillance as well.
Drones can recognise security and terrorist-related threats and challenges and determine the areas that may be prone to these threats.
Windelite designs and constructs drones based on custom requirements and purposes by thoroughly studying the situations and challenges. We have some models ready for use that can serve the purpose of urgency and can be remodelled to serve a peculiar requirement.
Result
The results can be obtained through 3D maps, orthomosaics, thermal maps, aerial mapping, corridor mapping, infrared aerial maps.